Home Exterior Roof and Siding Update In Vadnais Heights, MN
When I met with home owners, Dave and Sarah, they wanted their home in Vadnais Heights, MN to stand out. And we were happy to help! They needed a "redo" on the exterior of their home. We sat down and talked about the ideas, the colors and the products they wanted to incorporate to "stand out" from their neighbors.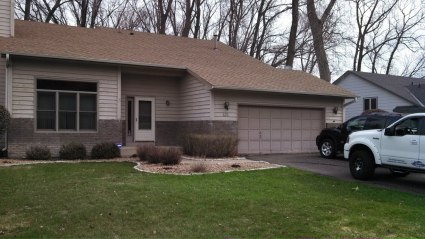 A before picture of the house in Vadnais Heights, MN.
After talking about ideas and budgets and the value that would be added to the home, we tore off the old Masonite siding, soffits, fascia, and existing brick! What? Change the brick? Oh yes, and look how great it looks compared to the brick from 1982! What a difference!
An after picture of the roofing, siding and exterior job in Vadnais Heights, MN.

We went with a Revere Royal Sovereign .046, vinyl siding. And to spruce this up, we added LP Smart Side Trim around the windows and at the roof line. It really adds a nice touch. We also changed out the 30 year old garage door and gutters with an added leaf protection product. Surprisingly, all of this work was completed within about 2 weeks.
Dave and Sarah are extremely happy Vadnais Heights home owners, and have had many of their friends and neighbors comment about the "updating" they need to do themselves after seeing the upgrades to their home.
At 1st Team Exteriors we pride ourselves in being built to stay small. We treat every client with the close personal service they deserve! As with Dave and Sarah, we would love the opportunity to help you add value to your home or just restore it to its "like new condition".
Please call 1st Team Exteriors today to get a free quote for your home exterior remodeling needs including roofing, siding, and more!