Are your heating or cooling bills too high? Does your roof build up ice dams after snowfalls and throughout the winter? By simply adding adequate insulation and proper ventilation, you could cut your heating/cooling bill by as much as 30% and extend the life of your shingle.
Here's how we help you
1st Team Exteriors will perform an inspection of your attic area to look for inadequate attic ventilation, incorrect insulation depth and condition, and heat bypass issues that may cause your home to have a warm attic that leads to ice dams.
Nearly 80% of the homes in America are under-insulated and do not meet the Department of Energy recommended requirements for attic insulation.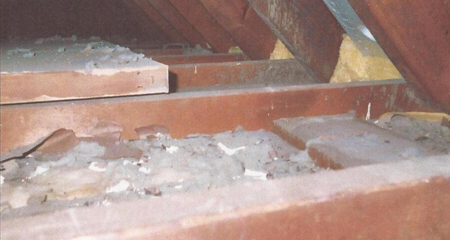 10 Reasons for Installing Attic Insulation with 1st Team Exteriors
10. We utilize manufacturer-certified installers.
9. Proper attic insulation prevents ice dams.
8. Insulation creates a safer and more comfortable environment for your home.
7. You will have a more energy efficient home.
6. You can preserve our world's resources.
5. We offer an installation warranty.
4. You may save up to 30% on your energy bills.
3. You can take advantage of energy provider rebates.
2. You may receive federal tax credit.
1. Proper attic insulation will save you money long term.
Many of these upgrades can save you money. Make sure to ask us about available Federal Tax Credits, Energy Provider Rebates, and Energy Audits.
Call Team Exteriors today for your free attic inspection and assessment if you want to:
Meet the Department of Energy Guidelines for attic insulation
Save money on your energy bills
Keep warmer in the winter and cooler in the summer
Decrease your carbon footprint by increasing your energy efficiency
Help America be less dependent on foreign oil and energy
Take advantage of the Federal Tax Credits and Energy Provider Rebates
Preserve the environment
Prevent future damage to your home from ice dams
How Does The Process Work?
1) Clean Out Existing Soffit Vents

We clean out the soffit vents in your home to remove debris that may be obstructing airflow into your attic area.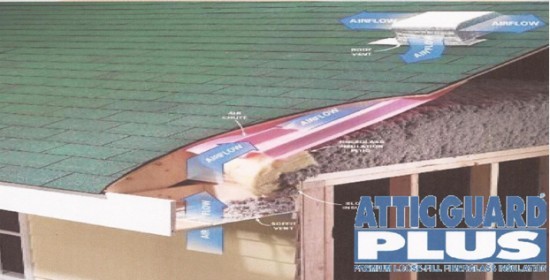 2) Install Polystyrene Air Chutes
We Install Polystyrene Air Chutes between the rafter trusses of your home to allow airflow from the soffit vents into the attic area above the attic insulation to be installed. This air flow keeps your attic area consistent with the outside air temperature which helps you avoid a "hot" roof that may lead to ice dams.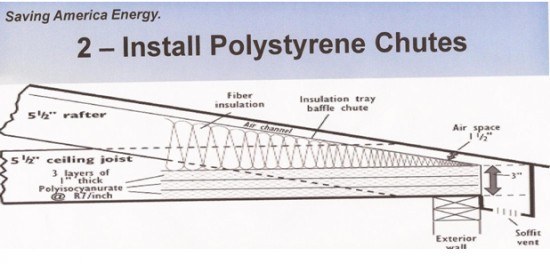 3) Install R-Value Rulers in Attic Area
We install R-Value Rulers in your attic to allow future inspection of insulation depth without disturbing attic insulation material.
4) Build-Up and Insulate Attic Access Panel
We build up the attic access panel in your home to match the level of insulation in the attic area. We also construct an extension around the cover to keep loose insulation from falling back into the access upon future opening. Finally, we seal the attic access panel to keep warm air from infiltrating into the attic area.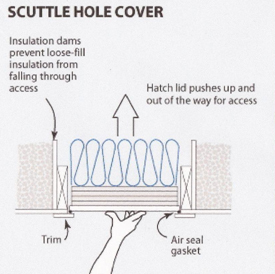 5) Blow In Loose-Fill Fiberglass Insulation
We blow Loose-Fill Insulation to meet the R-Value required for your home.